We offer the unique opportunity of acquiring both THOROUGHBRED and HARNESS PARTNERSHIPS, all under one roof!
Funky Munky Stable, LLC invites you to join our racing family and get a Thoroughbred or Harness [or both] Partnership starting as low as $800. We race primarily at New York, New Jersey and Pennsylvania racetracks. For information on our current offerings, please call (845) 381-1154, or go to our "NEW OFFERINGS" page, and fill out the brief information request form. Managing Partner Richard Munk will contact you within 24 hours.
Horse Racing Programs
As a partner, you can go to the backstretch in the mornings and watch your horse work out on the track. Go to the barn and see your horse up close. Great fun for your family and friends as well.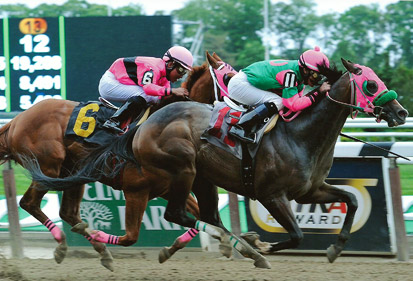 When your horse wins, you get to go to the winners circle and get your picture taken with your horse. I guarantee that time will stand still when you get to the winners circle!
Funky Munky Stable prides ourself on having excellent communication with our partners. Partners get constant updates regarding their partnerships via phone and e-mail.
Partners receive a quarterly expense report every 3 months. This enables the partners to see exactly where their money is going and how much money is in the partnership account. All the partnerships are separate LLC's [Limited Liability Companies] with their own bank accounts. Funky Munky Stable does not commingle the partnership accounts with one another.
Partners are always notified in advance when their horses are racing.
When a partner owns at least 5% of a Harness horse or at least 3% of a Thoroughbred, he or she must be licensed as an owner with the State Wagering Board. Funky Munky Stable will always be there to help with the process.
Partnerships are quickly becoming the premiere way of racehorse ownership! It is a fact that whether one owns 1% or 100% of a racehorse, the pure adrenalin one feels when your horse comes rumbling down the stretch to win the race is the same. It takes your breath away, and you feel like you're floating on air, even if you own a small percentage. At least 80% of racehorses lose money every year, because of the training expenses that eat away from the purses earned. So if you want to get into a partnership, do it to have the time of your life, and Funky Munky Stable will do everything to make your dream come true.
And maybe you will make a profit as well, just don't count on it. Our management team along with our trainers are committed to placing our horses where they have the best chance to be competitive. The horses have to do the rest!!!
Partners pay for their partnership percentage of the training expenses. Every 3 months [quarterly] we need to have the following quarter's training expenses in the partnership's account. However, we take into account how much in purse earnings the partnership's horse earned in the previous quarter, to determine how much is needed for the next quarter. If the horse earned more than is necessary for the next quarter, then the partners will receive a check for their percentage of the overage.
We will hold the annual Funky Munky Stable party at Saratoga Springs, N.Y. in August. We will also try to have an annual dinner party downstate in the spring or winter.