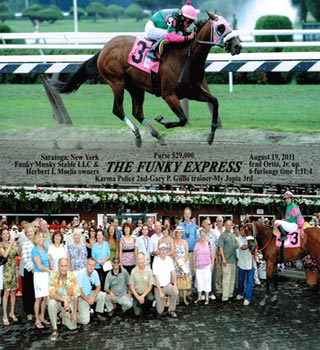 At Funky Munky Stable, LLC (FMS), the name starts with FUN. The more we win, the more fun we have.  And we've had tons of fun since our inception in 2007. Like we always say:
Funny name, serious racing.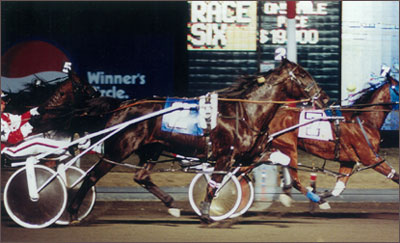 We are very serious about our horse racing, both thoroughbred and harness. We place our horses in races where they can be most competitive – our goal is for our partners to join us in the winner's circle.
Being in a racehorse partnership is a breathtaking and uplifting experience. Yes, it's a rollercoaster ride, with many highs and lows, but there is no greater thrill than rooting your horse home as he thunders down the stretch to win a race. It's one of those indescribable thrills; a rush you never forget. Whether you own 1% or 100%, the thrill of ownership generates FUN & EXCITEMENT.
Funky Munky Stable members receive constant information and communication via e-mails, phone calls, texts, and Facebook and Twitter feeds. You're notified of upcoming races, workouts, results and are always in the loop. Your opinions, suggestions, and questions are encouraged. Your input helps us make better decisions.
Members get quarterly profit and loss statements so they know the partnership's financial status. Each partnership is its own LLC (Limited Liability Company).
If you are looking for FUN & EXCITEMENT, Funky Munky Stable partnerships provide the thrills you seek through horse race partnerships. It is my biggest pleasure to see the partners' faces in the paddock and winner's circle, all with smiles from ear to ear.
Richard Munk
Managing Partner,
Funky Munky Stable, LLC